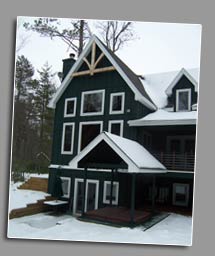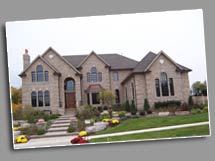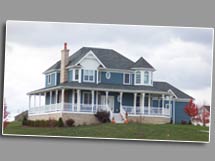 Build to Suit
When you make the decision to build the home of your dreams, it would be easy to feel overwhelmed by the number of details to coordinate and the array of decisions to be made. At Krolo Development, our goal is to guide you through the homebuilding process in the most efficient and least stressful manner possible.

Most importantly, with Krolo, you decide just how involved you want to be. Whether you want full control of every decision or would rather only be called in on the major issues, we are committed to working with you in exactly the manner you prefer. You tell us how you want us to perform - as a general contractor, construction manager, or something in between. It's our goal to make the construction process exactly the way you want it to be.
Site Acquisition

Most future homes begin with a site selection process. Perhaps it's land you've owned before, the landscape of your dreams, or just the perfect lot down the street. In any case, Krolo Development will work with you to locate and purchase land that will be an ideal match for your future residence.

Don't have a site in mind? Krolo can also work with you to find suitable sites, and help you identify parcels that will work well with your home plans. We'll even help you weigh such factors as proximity to downtown areas and public transportation, as well as examine the space needs for the home you plan to construct. We can even help you find existing homes that could be torn down to accommodate your new masterpiece in an established neighborhood. Together, we'll find the ideal site for your new home.
Site Planning

Once you have decided on a home site, the real work begins. The all - important first step requires clear communication with the village to fully understand its zoning ordinances and building restrictions. By taking this step up front, you'll save time and money because we'll have clear guidelines to follow. Important issues to address include setbacks, topography of the land, height restrictions, and required floor area ratios. Other items you may want to address may encompass garage placement, sight lines, sun exposure, existing tree lines, and privacy.

Combining all these factors, Krolo Development will help you put together truly customized plans that give you the house of your dreams, exactly as it should be situated on your chosen lot.
Home Design

This step truly customizes your home and gently blends it to its surroundings. Whether your site has a great number of restrictions or just a few, Krolo Development can work within those parameters to create a unique masterpiece that reflects your wish list, while meeting the requirements of the village in which we will build.

Many lots in existing neighborhoods and communities come with numerous restrictions and existing infrastructure that we must accommodate in order to contain costs on your home and assure permitting. Our architect knows how to work within the boundaries to create the homes that our clients demand, while still giving you options that allow you to closely match your wishes.

Whether we are working with a spacious expanse of land or a small in - town parcel, our architect will provide you with unique solutions that maximize the space - and optimize its use.

Once plans are completed with our architect and engineers, Krolo Development will guide you through the village approval process, assuring timely approvals that keep your project on schedule.
Home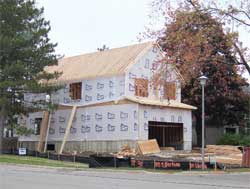 Construction

With plans committed to blueprint and approvals in place, Krolo Development will carefully construct your home following your exacting standards. Depending on the size of the home, finish selections, weather conditions, and the availability of materials and subcontractors, work on your future residence can be completed in a matter of months.

And, because we have a wealth of experience in the suburban area, we already have working relationships with a variety of tradesman and contractors who all measure up to our exacting standards and rigorous timetables. Multiple quotes guarantee you the most competitive rates on subcontracted items, helping you to hold the line on costs when appropriate.

But, no matter who participates in constructing your home, you can rest assured knowing that Krolo Development's first commitment is to quality. We hire only quality workers who deliver first-rate performances every time out of the box. We pledge to never cut corners on something as important as the home where you and your family will live.

And, if along the way, you decide you want to make a revision to the plan, we'll find a way to accommodate that as well. As always, it's your home, and we assure that you'll get it exactly the way you want it.

In fact, we'll let you tell us when the house is truly completed. We will finish any details you request, and complete all punch list items in a timely, efficient, and quality manner.

Weve said it before, but it bears repeating. Our mission is to provide the home of your dreams - exactly as you want it to be. Together, we can make that happen.